Dr. John Robinson is a General Dentist at Dentistry at Lifestyles in Midland.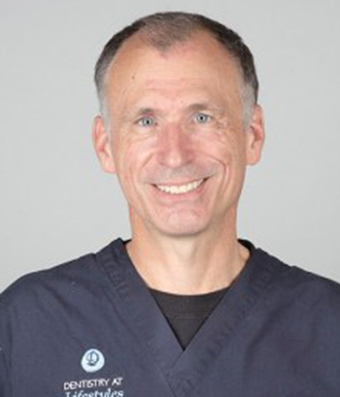 Dr. Robinson is a graduate of the University of Toronto. He first obtained his Bachelor of Science in Microbiology and Neuroscience and then completed his Doctor of Dental Surgery there as well. Dr. Robinson was one of three dentists selected for a one-year General Practice Residency program at St. Michael's Hospital Department of Dentistry. He has worked in hospital-based dentistry. Upon completing the program, Dr. Robinson first associated in his hometown in Scarborough, then moved north to Muskoka where he had spent his summers as a child. Over time he built two dental practices as a solo practitioner in the lovely Muskoka area. He served for several years on the executive of Muskoka Simcoe Dental Society and continues to dedicate many hours each year to continuing dental education.
On a personal note, Dr. Robinson has two children. They have both recently completed University degrees and have started on their own careers. He was a hockey trainer and taxi driver for his son's hockey team for many years. Summers included time at family cottages in Muskoka. In 2015 he was able to travel to Peru for a trip of a lifetime with his children. They completed the Lares Trek and visited Machu Picchu. Now that Dr. Robinson's children have left the nest, he has had time for to enjoy his other passions such as road cycling, downhill skiing, hiking, kayaking, camping, snowshoeing, and water skiing.